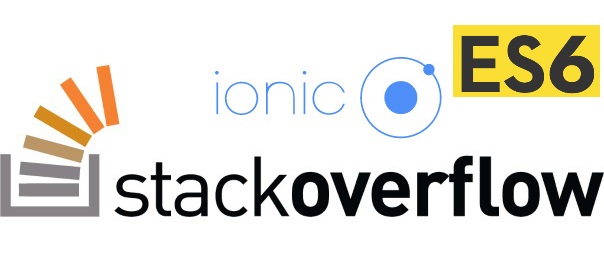 I'm a big fan of Stack Overflow and I tend to contribute regularly (am currently in the top 0.X%). In this category (stackoverflow) of posts, I will be posting my top rated questions and answers. This, btw, is allowed as explained in the meta thread here.
As you may know, I'm really into Ionic framework lately and am helping out on StackOverflow with the knowledge I gained so far with the framework. I'm in the top All time answerers list.
I answered this question by userChris Lawrence:
I think I know the answer to this question already but thought I would throw it out there incase there was a workaround....
Just built a ionic app with ngcordova, which works fine and I have tested on my android device and deployed to playstore.
Just in the process of deploying to the apple app store. I currently don't have an apple ios physical device to test the cordova plugins.
I am using sms, camera and local notification. These as far as am aware cannot be tested in the ios simulator in xcode.
Don't really want to spend £400 on a tablet to test one app.. any one had the same problem and found a means of testing?
My answer was:
You can test plugins in iOS simulator.

edit: I just stumbled upon the official documentation where it states that even with Ionic View you can test these plugins:

com.brodysoft.sqlitePlugin 1.0.3 "Brodysoft SQLitePlugin"
com.ionic.keyboard 1.0.3 "Keyboard"
com.phonegap.plugins.barcodescanner 1.1.0 "BarcodeScanner"
org.apache.cordova.battery-status 0.2.12 "Battery"
org.apache.cordova.camera 0.3.4 "Camera"
org.apache.cordova.console 0.2.12 "Console"
org.apache.cordova.device 0.2.13 "Device"
org.apache.cordova.device-motion 0.2.11 "Device Motion"
org.apache.cordova.device-orientation 0.3.10 "Device Orientation"
org.apache.cordova.dialogs 0.2.11 "Notification"
org.apache.cordova.geolocation 0.3.11 "Geolocation"
org.apache.cordova.globalization 0.3.3 "Globalization"
org.apache.cordova.network-information 0.2.14 "Network Information"
org.apache.cordova.vibration 0.3.12 "Vibration"
org.chromium.zip 1.0.0 "Zip"
How to test #Cordova plugins in #Ionic without a device? https://t.co/IpyYNV4uAn

— Nikola Brežnjak (@HitmanHR) October 20, 2015
I just came home from the ever so slightly awesome Ekobit DevArena X conference. As I usually do, I'll share my notes that I took in my notebook and a few pictures.
Start your engines
Well, you can't start a day on an empty stomach, right?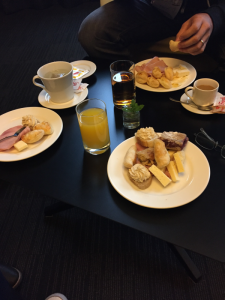 This is how the accreditation looked like: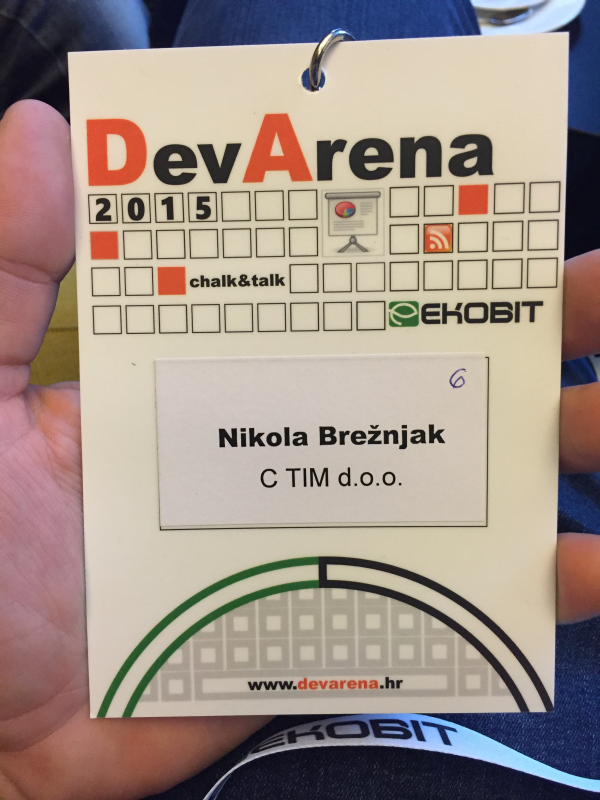 The accreditation had a handy list of all the presentations on the back side: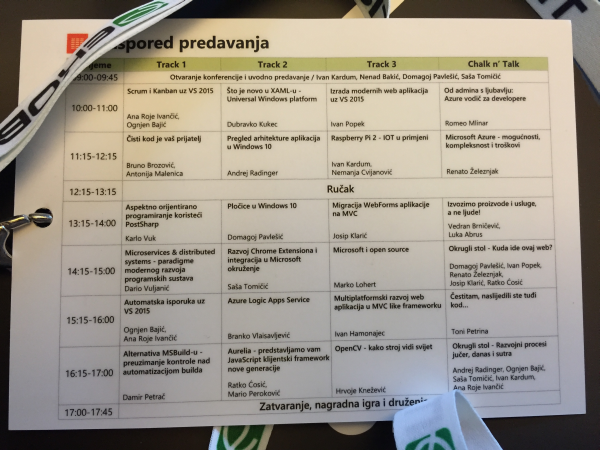 As you can see, there were 4 tracks between which you could choose (yes, you could go to any presentation in any of the tracks in a certain timeslot). Chalk n' Talk presentations are actually a cool thing where they aren't actual presentations rather something like a round table where the presenter(s) discuss their real life experiences (and the input from the crowd is also highly desirable).
Keynote
Modern web application development in Visual Studio 2015
Clean code is your friend
Lunch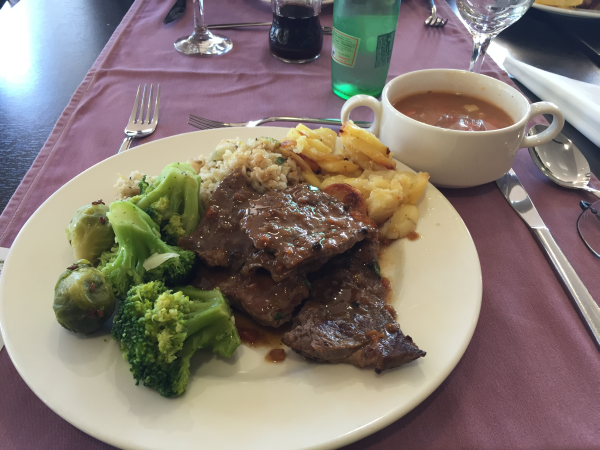 We're outsorcing products and services, not people!
Where is this web going?
Automated delivery in Visual Studio 2015
Aurelia - new generation JavaScript framework
They had a nice additional prize draw for those who asked questions (you get a small paper which you toos in a drawing bowl). I got mine on the last presentation. However, no luck in winning something 🙁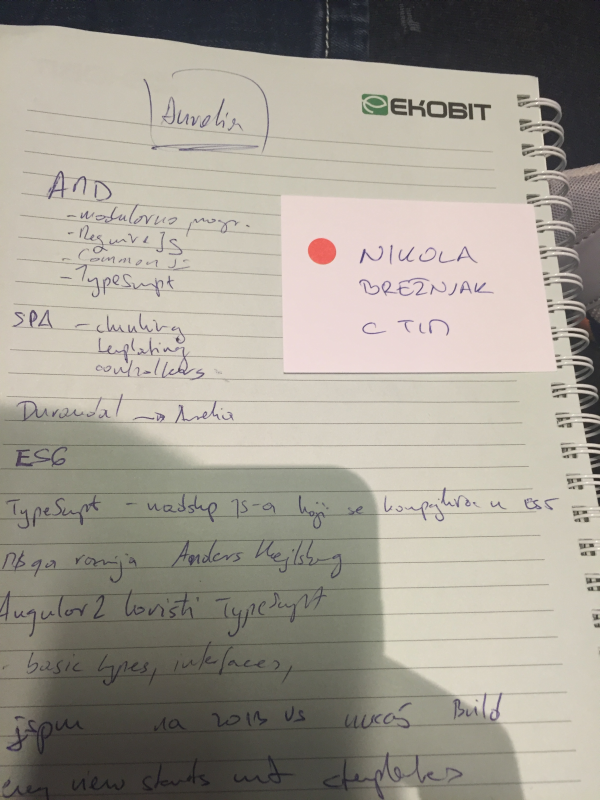 However, as every year, they are giving prizes for the first few people who sign up for the conference. This year I signed up at 6th place, and because of that I got a nice 2 tickets at Terme Tuhelj, and also a nice hoodie with a number 6 🙂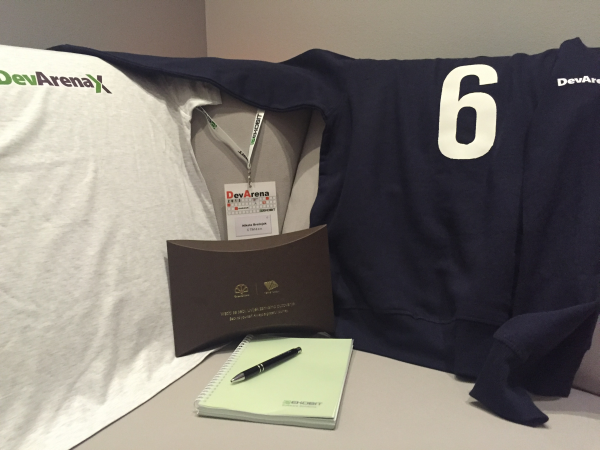 Thanks and hope to see you next year!