hack.summit() 2016 virtual conference and hackathon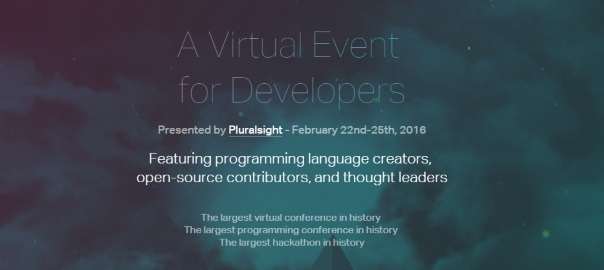 hack.summit() is a virtual event for developers presented by Pluralsight which will take place "on the wire" on February 22nd-25th, 2016.
This years' hack.summit() holds three titles:
The largest virtual conference in history
The largest programming conference in history
The largest hackathon in history
and it has some really interesting speakers like programming language creators, open-source contributors, and thought leaders like:
JON SKEET - #1 answerer on StackOverflow
KENT BECK - Creator of Extreme Programming, creator of TDD
DAVID HEINEMEIER HANSSON - Creator of Ruby on Rails
JOEL SPOLSKY - Co-founder and CEO of StackOverflow, founder of Trello
YEHUDA KATZ - Ember.js author, Rails Core contributor
TOM CHI - Creator  of Google Glass
BRIAN FOX - Inventor of GNU Bash Shell
ORION HENRY - Founder of Heroku
ROD VAGG - Node.js Technical Chair and Core Committer
and many others...
On top of that, there will be a virtual hackathon on February 20th-21st. One can compete alone or in a team. The prize pool is also worth mentioning 150k$ times :).
This should definitely be interesting so make sure you check it out if you're into these kind of things...
#hacksummit 2016 #virtual #conference and #hackathon https://t.co/YvMSZ621yh

— Nikola Brežnjak (@HitmanHR) December 28, 2015