The Little Prince – Antoine de Saint-Exupéry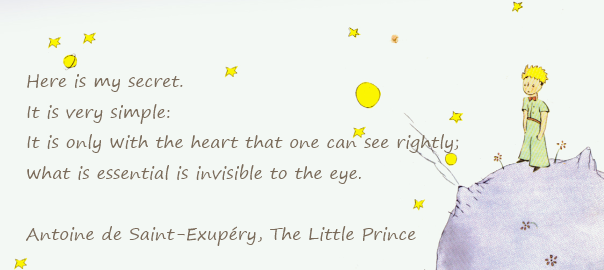 Since I very much like to read non technical books also, and I have a habit of collecting quotes in my "quotes book", I'm about to start and post every Thursday all the quotes that I wrote down from some book. What better book to start with than with The Little Prince by  Antoine de Saint-Exupéry.
All grown-ups were children once.

It is sad to forget a friend.

You know... when one is so terribly sad, one loves sunsets.

The land of tears is so mysterious.

At the time, I was unable to understand anything! I should have based my judgment upon deeds and not words. She cast her fragrance and her radiance over me. I should never have run away from her! I should have guessed at the affection behind her poor little tricks. Flowers are so inconsistent! But I was too young to know how to love her.

I've been silly. Please forgive me. Try to be happy. Of course, I love you. If you were not aware of it, it was my fault. This is not important. But you have been just as foolish. Try to be happy...

Don't hang about so, it's irritating. You have decided to leave, so leave.

If I ordered a general to change himself into seabird, and if the general did not obey, it wouldn't be the general's fault. It would be my fault for ordering him to do the impossible.

One must demand of each and everyone what he or she is capable off.

Authority is first and foremost based on reason.

It is far more difficult to judge oneself than to judge others.

What are you doing here? I'm drinking. Why are you drinking? In order to forget. Forget what? Forget that I'm ashame. Ashame of what? Ashamed of drinking.

Kings own nothing, they reign over.

When one wants to be funny, one may have to lie a bit from time to time.

One feels rather lonely in the desert.

I thought I was rich with a flower unique in the world, where is in fact all I had was a common rose.

One can only understand the things one tames.

That's right, said the Fox. To me you're still just a little boy like 100,000 other little boys and I have no need of you and you have no need of me either. To you I'm just a fox like 100,000 other foxes, but if you tame me, we shall need one another. To me, you will be unique. And I shall be unique to you.

Men have no more time to understand anything.  They buy ready-made things in the shops, but since there are no shops where you can buy friends man no longer have any friends.

Words are source of misunderstandings.

Thus it was that the little prince tamed the Fox. And when the time for his departure came the fox said "Oh, I shall cry." It's your own fault, said the little prince. I wished you no harm, but you wanted me to tame you. Yes indeed, said the fox.  But you are going to cry, said the little prince. That is so, said the fox. Then it has not helped you in anyway. It has helped me, said the Fox, because of the color of the wheatfields. Then she added: go and have another look at the roses and you will understand that yours is indeed unique in all the world. Then you will come back and say goodbye to me and I shall tell you a secret as a gift.

None of you is at all like my rose. As you are nothing, he said to them. Nobody has tamed you, and you have tamed no one. You're beautiful but you are empty. One cannot die for you.

It is only with one's heart that one can see clearly. What is essential is invisible to the eye.

No one is ever satisfied where he is.

It is good to have had a friend even if one is going to die.

What makes the desert so beautiful is that it hides a well, somewhere...

Time soothes all sorrow.