Zločin u židovskoj četvrti – Ernesto Mallo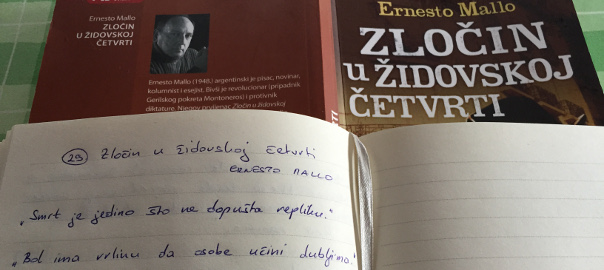 My notes (on Croatian [did you notice I added the translate functionality?]) from the book Zločin u židovskoj četvrti by Ernesto Mallo:
Smrt je jedino što ne dopušta repliku.

Bol ima vrlinu da osobe načini dubljima.

Kad se čovjek rodi kao bogataš, doživljava siromaštvo kao nepravdu.

Strah je kruh vojnika.

Svako biće, samom činjenicom što živi, odašilje zračenje koje se projicira u prostoru. Kao u slučaju zvijezda, to zračenje dalje putuje, možda vječno, čak i kad je onak koji ga je odašiljao nestao.

Ne voljeti iz straha od patnje je kao ne živjeti zbog straha od umiranja.