Notes from Kanban Fundamentals course on Pluralsight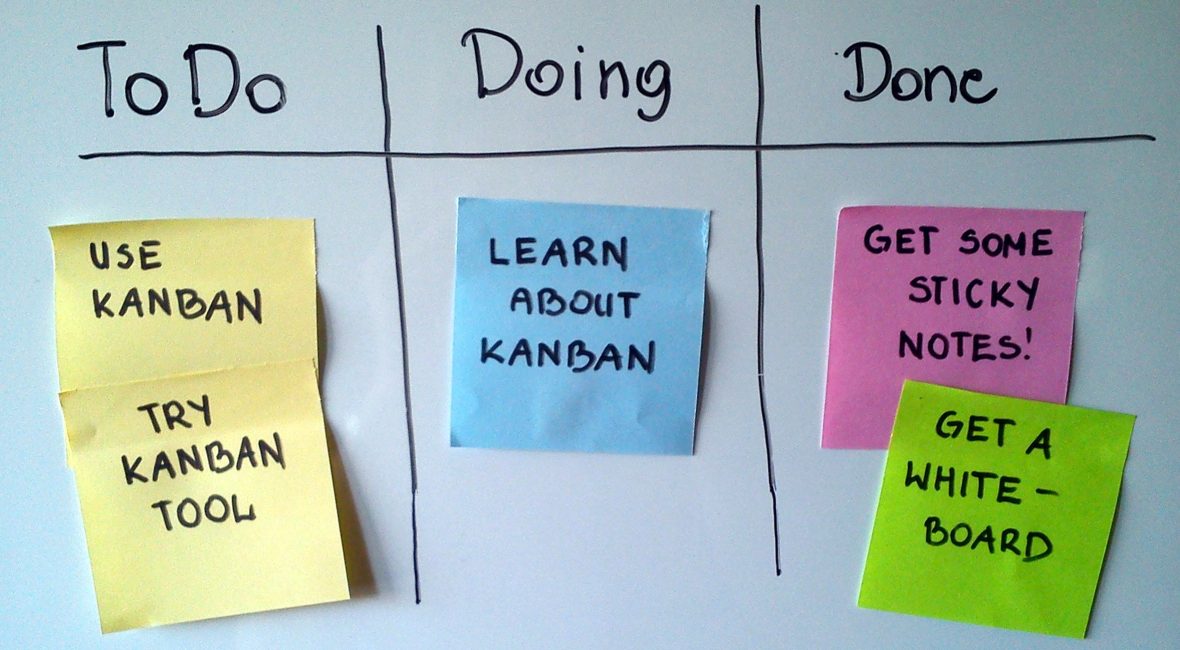 Here are my notes from the very good Pluralsight course Kanban fundamentals by Steve Smith.
Kanban = kan (visual) & ban (card)
Taiichi Ono from Toyota 1920ies
Kanban is about maximizing flow
It's for visualizing work and limiting WIP (work in progress)
Little's Law states that queue length (L) = arival rate * avg. wait time.
Cycle time = WIP / Throughput
Lead time vs Cycle time
Ticket created
Start work
Ticket implemented
Lead time
Cycle time
Personal Kanban
Personal Kanban getting started
Gather materials (sticky notes, whiteboard, pens)
Establish Value stream (Ready/Doing/Done)
Make your backlog explicit (put them on sticky notes, focus on completeness, not organization)
Establish WIP limit
Begin pulling tasks
Reflect
Create a blocked state too - prioritize them and set a WIP on them as well!
Potentially, add a Today column:

Prioritization lanes:

Kanban for software teams
Usually, the upstream process (UP) would produce as fast as they could without worrying about the downstream process (DP) - this lead to a lot of waste = overproduction.
However, in the pull model, the DP requests more parts, and the UP produces just enough items to keep the store populated with some limited number of parts.
The Kanban Method** Properties
Visualize workflow
Limit WIP
Measure and manage flow
Make process policies explicit
Use models to recognize improvement opportunities
Recipe for success
Focus on quality - reduces defects
Reduce WIP - reduces defects as well
Deliver often - as that builds trust
Balance demand against throughput - don't accept work at a rate higher than the rate your team produces work. This will yield bottlenecks
Prioritize
Attack sources of variability to improve predictability -
Microsoft case study 2004:
remove estimations
limit WIP
More frequent cadence
Implementing Kanban
Define your process and endpoints
Identify types of the workflow
Create a card wall
Establish and visualize queues/buffers
Examples
Example usage for 'swimlanes' (horizontal lines denoting 'critical' tasks that eventually happen):
An example of post it notes on the actual physical board in case that's used.
Online Tools
The author mentioned the following tools:
AgileZen
LeanKit
Trello
Targetprocess
However, this list is rather old. Even so much so that at the time Trello was free, and it just got sold yesterday 🙂
I'd like to add one kanban tool that I use for personal usage: https://kanbanflow.com. And one that I'm about to start using, and will write my thoughts about how well is fitting in our workflow after I do some work with it: https://www.blossom.co/.
Conclusion
Very good introduction to Kanban, which may be just as much as you'll ever need.
My notes from Kanban Fundamentals course on Pluralsight https://t.co/tOQ0Nen0nY

— Nikola Brežnjak (@HitmanHR) January 11, 2017