Random English quotes from notebook #1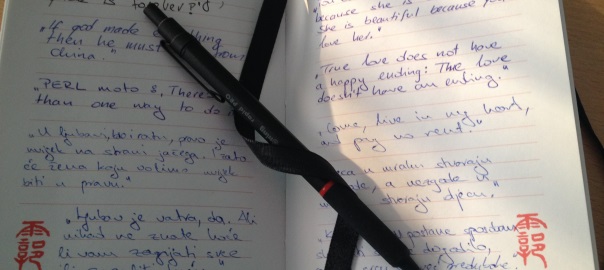 Every time I read a book I write quotes to my notebook, but also when I come across some good random quote I put it in as well. Just recently I filled up one of my "quote notebooks" so now I'll post all the quotes from this notebook that are not "book specific" but instead spread throughout this notebook randomly. Not all books I read are in English, as you can see in the image, but I'll be posting just those here...
And the day you finally decide to love will be the day that I have given up on chasing you.

Everyone is expendable.

The girl changed you and you don't even know it.

Maybe God has a bigger plan for me then I have for myself.

There is no such thing as an ex con.

How do you pick up the threads of an old life? How do you go on, when in your heart you begin to understand that there is no going back? There are some things that time cannot mend.

Relationships are like glass. Sometimes it's better to leave them broken them to hurt yourself putting in back together.

They say that people come in your life for a reason.

Enemy of my enemy is my friend.

Love till you hate, strong do you break.

You'll learn, she said. Though it did not sound as an encouragement.

What if you were told that you could make a fortune just by pushing a button on a box? By pressing the button will simultaneously cause the death of another human being somewhere in the world. Someone you don't know. Would you still push the button?!

When I do good I feel good. When I do bad, I feel bad. That's my religion.

How much I missed simply because I was afraid of missing.

If I had a list of all the people that might come to visit me in prison, your name would be at the bottom. Somewhere below Jesus Christ and Scooby Doo.

The love is nothing, to be loved is something, to love and be loved is everything.

You're just jealous because the voices are talking to me.

Pain is temporary pride is forever!

She's the kind of woman that would rather go to sleep then to tap out.

If God made everything then he must be from China.

You don't love a woman because she's beautiful, she's beautiful because you love her.

True love does not have a happy ending. True love doesn't have an ending.

Come, live in my heart, and pay no rent.

Enjoy life but to be attentive. Don't think there are no beast just because the forest is silent.

Hi, I'm a spider and I can make your girlfriend scream louder than you can.

I have learned to never assume too much when it comes to form users.

If you cant explain it to a six-year-old, you don't understand it yourself.

When you really love someone age, distance, height, weight is just a darn number.

I've missed more than 9000 shots in my career. I lost almost 300 games. 26 times have been trusted to take the game winning shot and missed. I've failed over and over again in my life. And that is why I succeed.

It's not that we don't like you, we hate you. Period!

Hacker. Dropout. CEO.

I don't get it why do people always assume the worst, when you tell them you're a drug dealer.

Someday, and that day may never come, I may call upon you to do a service for me. But, until that day, accept this as a gift.

Life is so short, so why think about dying?

They killed God because he smiled on them.

They'll bury it so deep it'll be easier to reach if you start digging in China.

Why do we never know ourselves the way we think we do.

Once you know what you're looking for, the rest comes easy.

The man who passes the sentence should swing the sword.

It's uncomfortable to focus so intensely on what you're bad at," Spiegel told me. "So the way people usually study chess is they read a book about chess, which can be fun and often intellectually amusing, but it doesn't actually translate into skill. If you really want to get better at chess, you have to look at your games and figure out what you're doing wrong.

Spiegel wrote on her blog: The first day and a half was pretty bad. I was on a complete rampage, going over every game and being a huge bitch all the time: saying things like "THAT IS COMPLETELY UNACCEPTABLE!!!" to 11-year-olds for hanging pieces or not having a reason for a move. I said some amazing things to kids, including "You can count to two, right? Then you should have seen that!!" and "If you are not going to pay more attention, you should quit chess, because you are wasting everyone's time." By the end of round three I was starting to feel like an abusive jerk and was about to give up and be fake nice instead. But then in round four everyone took more than an hour and started playing well. And I really believe that's why we seem to win girls' nationals sections pretty easily every year: most people won't tell teenage girls (especially the together, articulate ones) that they are lazy and the quality of their work is unacceptable. And sometimes kids need to hear that, or they have no reason to step up.